Hope (Sherwood) Juber



BRADY BUNCH CREDITS
Slumber Caper (OCTOBER 9, 1970) AS JENNY
The Big Bet (JANUARY 28, 1972) AS RACHEL
Greg Gets Grounded (JANUARY 19, 1973) AS RACHEL
Hair Brained Scheme (MARCH 8, 1974) AS GRETCHEN
Brady Brides (THE SIEGE - APRIL 3, 1981) WRITING CREDIT
Brady 500 (FEBRUARY 9, 1990) AS ERICA HOPKINS
Real Live Brady Bunch (SLUMBER CAPER, 1993) ONE-WEEK PERFORMANCE AS JENNY

Very Brady Christmas (1988)
HUSBAND - LAURENCE JUBER WROTE THE MUSICAL SCORE


---

Question: The Brady Bunch episode "Eenie, Meenie, Mommy, Daddy" as I understand it, came from a story that you told your father, Sherwood Schwartz (Creator of The Brady Bunch), about one of your friends at school. How often did this type of cross-over occur and how upsetting was it to you to see your life put on television for everyone to see?

It's hard for me to remember how often this happened, I know it would come up every once in a while, and, as you say, it was upsetting to me when it did. It wasn't always a plot point either, sometimes it was a speech by Mike to Marcia, or a pet name that would make me feel a bit exposed.

Question: Of all the episodes of The Brady Bunch, which was your favorite? Also you have previously mentioned how you are still recognized for the famous frog scene from "Greg Gets Grounded", what was it like filming that scene?

My favorite of the ones I was not in would probably be "Getting Davy Jones", though I also liked the one where Peter broke the vase and they all confess. Of the episodes I was in, it would have to be the frog one.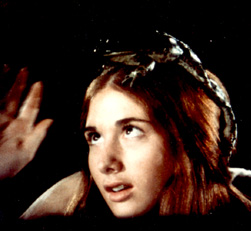 That scene was actually very complicated to film. They rigged a contraption above the car where a guy was perched. At first he used bean bags, to get his aim right, I felt a bit like a carnival game target, then he switched it for the real thing for filming. He had a burlap bag full of frogs. As I recall it dripped what you might call "frog juice" on my head during the scene. We had to take the scene a few times as the frogs would slide off my head. (They wanted the frog to land, and stay, right on top) Each time they had to redo my hair, frogs tend to ruin the straight style popular at the time, and my hair is naturally very curly. All the kids were on the set to watch the scene and I remember one take was just perfect....the frog landed, plop, but it really cracked everybody up and we had to do it again because you could hear all the laughter. I was concerned about the frogs (I am an animal lover) landing on pizza, but they seemed to be ok, it wasn't actually cheese, or hot, it was a kind of cheesy-looking goop. Occasionally a frog would jump in the goop and then leap onto me, I remember changing blouses more than once. Finally, they got the shot, and the scene worked, Barry improvised a few lines that made me laugh and they kept that part in, too. I was quite proud of the fact that when I saw the scene I thought I actually did seem surprised when it landed on my head. Everyone on the set got together and presented me with a trophy which has a frog sitting on top of it, the plaque on it reads "FOR PERFORMANCE ABOVE AND BEYOND THE CALL OF ACTING". I still have it.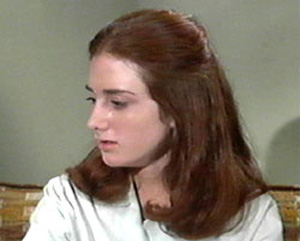 Question: When you got your first role on The Brady Bunch in "The Slumber Caper" (as seen right) and subsequently played the recurring role of Rachel (see question above), did you have to audition for these parts or was it just given to you due to your association with the show? Also, during your childhood, did you appear in other acting roles, or was it limited to The Brady Bunch?
I believe that for "The Slumber Caper" they wanted me, along with Barbara and Karen all in the same show as a publicity angle. The "real" kids, sort of thing. As for the "Rachel" role, Dad just asked me if I was interested in doing it. I was very active in the theater department of my school, always in one production or other, so I don't think he was particularly worried about my ability. I never really pursued acting as a profession, however.
Question: Where you close friends with the actors of the show, or was there a jealousy between you and them?
Yes to both questions. I was, and I still am, friends with Maureen and Barry. I didn't have as close of a relationship with the other kids at the time because I was the same age as Maureen and when you are that age those couple of years can make a big difference. As for the jealousy aspect....It's hard for me to explain all of the emotions and consequences this show has had for me. I believe I am in a unique position in regard to this. I fully intend to delve into this subject further, some day, but for now, suffice it to say that, though I knew logically it was part of the job, if your father and brother take off for Hawaii and the Grand Canyon with six other kids, there has got to be some jealousy involved.
Question: How much of an influence was your father in your choosing your career path. You have previously said that you helped write some of The Brady Brides and many other scripts for television and theatre, do you have a favorite?
I don't think it was my father's influence that led me on my career path. It just seemed to be the thing I was best at. I actually think I would have preferred entering a field without all of the comparisons and assumptions. When I first began writing out of college, I changed my name. I didn't want to get an assignment because of (or NOT get one because of) my Dad's reputation.
My favorite Brady related thing I wrote was the episode of The Brady Brides entitled "The Siege". As for unrelated work...I am very proud of a play I wrote called "Without Annette", it has an unusual form, and incorporates improvisation, I am also proud of "The Housewives". ( A comedy-rock 'n roll group I created, produced, wrote the material for, and performed with) I am always most excited about work which has an original twist to its structure.
Question: I know people are always asking you about your father, as I have. However, I am going to flip it and ask you also about your mother's and/or brother's influences as well in your growing-up and in your career choices in life.
To me, my mother was, and still is a very "Mrs. Brady" type of a woman. Very kind, bright, funny, pretty, stylish....her family is her crowning achievement. She is extremely supportive of my father. Always ran a comfortable house and took care of the kids, chauffeuring me to all the various meetings, events and lessons. I'm not sure how much influence she exerted as far as a career goes. I remember her suggesting I be an airline stewardess once ( funny, I have an acute fear of flying....oh well). As for brothers...I have three. My brothers all are quite a bit older than me, so when I was growing up they were pretty much out of the house.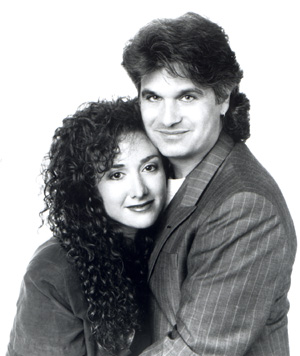 Question: Also, did your husband, Laurence (seen left with Hope), lead you into writing music, or was it your common interest that brought the two of you together?
This is a question with a very involved answer. In a manner of speaking, yes, my love of music (specifically The Beatles) brought us together. It all started when I was 7 yrs old. I, (and I know I'm not alone in this) instantly became a devoted Beatles fan. My love of The Beatles, and their music was, even by my own standards, unreasonably intense. All through the years, this never changed. It was so much a part of who I was that when you mention me to people who knew me, they invariably mention that I was the girl who loved the Beatles.
When John Lennon was killed I was devastated. Obviously, I was not the only one, but I was having a very difficult time getting over it. My parents were becoming worried and sent me to talk to someone about it. It was not helping. I was having a hard time sleeping and I was not eating very well. After about 2 weeks my mother called me and said "I know what will help you...." I waited, expectantly thinking of all the possibilities. "You should go get your hair done by my hairdresser." I have to admit, it wasn't what I was anticipating, in fact I thought it was ridiculous, but I didn't want to argue with my mom, so I said "Fine, ok, I'll get my hair done".
She made an appointment and I drove to Beverly Hills. I sat in the chair as the stylist worked on arranging my unruly red hair. "You look so sad" He said, I told him how John's murder was affecting me. He said "Hey, I know, why don't we go out and have a bite after my last appointment. We can talk, and you should eat something." I said that I would and then he said "I have one more client. Go down stairs, walk around the block once, by the time you are done I should be finished, then we can have some lunch."
Fine, ok, I'll walk around the block. I went downstairs and headed out to the street. I wasn't looking where I was going, just kind of looking down, not even bothering to check out the shop windows, I was so lost in thought. All of a sudden I bumped into somebody straight on. I was startled and found myself literally standing on a man's feet. I looked up to apologize and was stunned to see that I had bashed into, and was now standing on Ringo Starr. He had been walking with his wife Barbara when I stumbled into him. I felt so bad, I said I was sorry and hoped I hadn't hurt his feet. He said he was fine, and not to worry. I shook his hand, and Barbara's, and I mentioned how badly I felt about John's death, then I turned to leave.
This was one of those "defining moments" you hear so much about. He took a moment before he spoke. I'll never know if it was something in the way I said what I said, or if he, himself needed to talk, but stopped me from leaving with "Hold on a minute, can I talk to you...?"
I turned back. He began to tell me his feelings about what John's death meant to him, and the world, Barbara added to his conversation. I must have stood there for at least 5 minutes listening to Ringo. I remember him stressing that he intended to go back into the studio and work....that work was very important right now. I stood in amazement as he spoke to me, a total stranger who had just injured his toes. Finally, when he was through, I thanked him and we all left, I was still pondering the odds of that happening. I knew it meant something.
The next day I got a call from Dad. He had just sold "The Brady Brides" and wanted to know if I would work on the show with him, and my brother Lloyd. I had always said "no" to working, as a writer, with him or my brother, wanting to make it "on my own". I was about to say it again. Then suddenly, I remembered the previous day, and I thought to myself.... "work...Ringo was talking about how important it was to get to work." Maybe this was something I should do.
I said "Yes. I would love to." I began work at Paramount on "The Brady Brides" within the week. I started out as a research assistant. Lloyd asked me to think about writing a script as a sort of a back up. Turned out that they liked the one I wrote better than the script they were planning to shoot the next week, so they shot mine instead. My particular episode was a hit with the network people and I was quickly promoted to story editor. During this time I started seeing somebody on the Paramount lot. He was, and still is, a very good actor. He was going off to New York to film a movie. "The Brady Brides" was going on hiatus (from which we would never return, but we didn't know that yet) So, I went off to New York, too.
He had to do an interview one evening, so he sent a car to take me to a club to wait for him. As I waited, somebody told me that "Paul McCartney's guitarist" was in the club. I thought that was pretty cool, though I wasn't familiar with the members of Wings.
At one point I was sitting at the bar talking to a woman who was a singer. She said she was working with a couple of musicians who were heading our way. She introduced me to three guys as they approached. The middle one had the sweetest, most soulful green eyes I has ever seen. It was Laurence. We started talking and I immediately forgot about the guy I was supposed to be waiting for. We left to get a bite to eat. Laurence started talking about marriage that night. It didn't occur to me that this was the same guitarist that I had heard about earlier that evening, until I saw a Wings poster on his wall. As of this last March, we have been married 18 years.
I have always felt that the way we met was incredible, meant to be, and that it was all strangely Beatle related. From John's death...to Ringo...to Paul's guitarist. Odd, huh?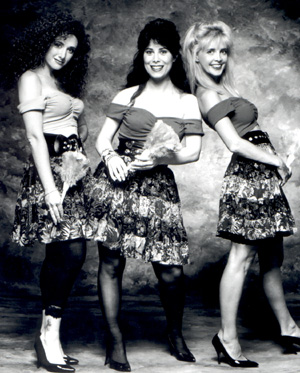 Question: Tell me more about The Housewives (group seen right). Where did the inspiration for the group come from? What type of audiences does the band play to?
This actually leads on from the last question. I thought it would be great to combine our, Laurence and my, talents for a project. Comedy and Rock and Roll. When we got married and then I had a baby, I was surrounded by domestic issues for the first time. It occurred to me that when guys form a band they often write about things they are dealing with i.e. cars, girls, sex, even mundane job situations. If women formed a group it might be funny if they wrote rock and roll songs about mundane domestic issues. Hence the song titles: "Be My Babysitter", "In Sink And At Your Disposal", "Call A Repairman", "Ironing Bored" etc.
The Housewives was born out of that inspiration. We played to sold out audiences in Rock and Roll clubs as well as Comedy clubs from the early eighties until about 1994. We were regular guests on "The Home Show", becoming the house band. We were seen often on shows like Entertainment Tonight, Oprah, Hard Copy, and all the daytime talk shows. Eventually we were put in development for our own TV sit-com at CBS. Unfortunately, while we were waiting for the writer to finish a script (they wouldn't let me write it, but that's another story) two women who had seen The Housewives on The Home Show, (they took the idea and started The Mommies 2 weeks later), got their show on first. It did not do well and ruined the prospect of a show for us. It was extremely frustrating for me. I had been doing The Housewives for 11 years at that point. We decided to put our material on a CD which continues to sell and receives air play on radio stations.
You can visit The Housewives site at: http://www.picklehead.com/housewives/hw_info.html
(Note: Many of the links on the site are incorrect - just add /housewives directory in between each url address to find the page.)
Question: Finally, please share a paragraph or so about where you see your life going and what goals you have for the future?
Since The Housewives have stopped performing live I spent some time writing screenplays, plays and musicals. Whether you will see them or not, time will tell. Laurence then asked me to get involved in the production of his albums and we discovered that we have an extremely creative, productive working relationship. I have been producing his albums now for a few years. I produced the last four and we are truly enjoying the process.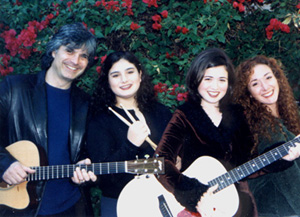 Coming full circle I just finished producing an album called "LJ Plays The Beatles". Which is a CD of solo acoustic guitar arrangements of Beatle songs, played by Laurence. You can find out more about Laurence, his music, how to get his CD's and even read some stories I have written, if you visit our web site at Laurence Juber.com. I intend to continue to work with Laurence, develop more creative projects on my own and with Laurence, write, and remain actively involved in the day-to-day lives of our two daughters, Nico and Ilsey (seen right with Hope & Laurence). I also intend to spend a great deal of time listening to Laurence play guitar, walking dogs, appreciating nature, and lending my time and talents to causes that help support environmental issues, animal welfare and children.
---