Frances Whitfield
(Passed away August 19, 2005)


Mrs. Whitfield was one of the studio teachers who taught the actors from The Brady Bunch during their years filming the show on the Paramount Studio Lot. She has been gracious enough to take the time to share her thoughts and memories of working with the cast and crew and giving us a little more insight into what it was like Growing Up Brady. (Thank you also to her daughter, Annie, for her assistance is making this possible)

She also appeared on screen in the following Brady Bunch episodes and reunions:
Snow White & the 7 Bradys (September 28, 1973) as Mrs. Whtifield (Cindy's teacher)
Very Brady Christmas (1988) as Volunteer at Hospital

How difficult was it to prepare lessons for a classroom with six different grade levels of students, and to teach in a studio atmosphere, when the students would be coming and going with no set schedule for schooling?

I am proud of my association with The Brady Bunch, and of the distinction of being regarded as the Brady Bunch teacher. There were, over the years, however, four others - Thordis Burkhardt, Shirley Deckert, Beth Clopton and Portia Adams. I was the only first-to-last, the one who happily returned for each season's filming.

Providing adequate instruction and supervision for six different scholastic levels would have been impossible; but Paramount provided two schoolrooms and a teacher for three students, grouped according to grade levels, in each.

Susan, Eve and Mike's desks were in my classroom, but both groups frequently shared special events, activities, and learning experiences. For instance, on one occasion, Mrs. Knight, Chris's mom, gave us a most comprehensive summary of the history of art.

Other than the Brady cast members, did you have other teaching jobs with Paramount? If so, who were some of the other child-stars that you taught?

If I had other teaching assignments at Paramount, they were of such short duration that I don't remember names of the shows. I do recall one other occasion at Paramount and a pupil whom I shall never forget. It was for a one-day-only job, with only this one pupil. We were sitting at a small table discussing and filling in the blanks in his workbook about continents and countries when suddenly he changed the subject.
"Do you believe in God?" he asked.
I replied without hesitation. "Yes. Do you?"
His response was also prompt. "Sure," eight-year-old Danny Bonaducci answered, "what have you got to lose?"

I have heard that you were responsible for creating the "Brady Hallway" at Paramount Studios. Can you tell me a little about what this project was and how it came about. Also, what exactly did visitors see when they walked down this hallway?

The Brady kids were versatile and ingeniously creative, and the days at Paramount occasionally afforded time for exploring other than their acting talent. Art specimens soon began to "paper" the schoolroom walls and more space was needed for their display. Brady Hall supplied it.

Before it got its name, however, Brady Hall was just a drab old unpainted indoor alley between Stage 5 and the two dressing rooms which had recently been converted into school-rooms.

In them the young actors, not included in the scene being shot, awaited their calls to appear on camera. After fulfilling their daily three-hour educational requirement, they wrote poems, painted pictures and explored their artistic creativity by concocting collage and other colorful decorations - sometimes making use of "kool" cards and "groovy" gifts from fans. Many of them were displayed on the drab old walls outside the classrooms.

I suppose I can take credit for beginning the decoration of the new "gallery," but I think visiting fans and sightseers gave it the name Brady Hall.



What are some of your favorite memories from the days of working on the Brady Bunch set?

I find it difficult to classify incidents and experiences of my close association with the Brady kids and their real-life parents as Favorite Memories. I consider these five years a favorite part of my life. Our location trips, however, may rate the term.

Three seasons filming began with flights to interesting tourist attracting areas - the Grand Canyon in Colorado, the newly developed amusement park in Cincinnati, and then we flew to "Blue Hawaii."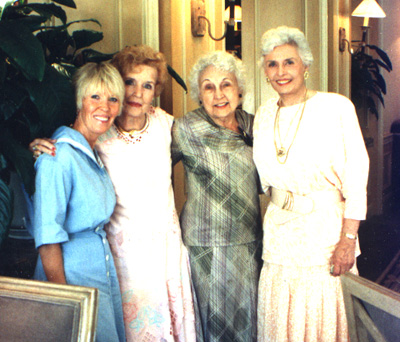 Karen Lookinland, Dee Olsen, Frances Whitfield
& Doris Blenkhorn (mothers of Mike, Susan & Barry)
And we crossed the Atlantic. That was Robert Reed's idea. After four years of playing "Mike Brady" and becoming overwhelmed with fatherly vibrations, and also probably feeling nostalgic about his youthful days in preparation for his acting career at the Royal Academy of Dramatic Art, Bob awarded the young Brady Bunch actors with a trip that began with a one-night "sleep-over" at the Plaza Hotel in New York City before a week's stay in the Hyde Park after the four-day cruise to London on the fabulous Queen Elizabeth II.
I was invited, too, and went along as tour guide. We "did the town," which fortunately I had recently "done" with a professional tour director. We saw London's longest-running stage play, spent an afternoon at Stratford-on-Avon, watched the changing of the guards at Buckingham Palace, shopped at Harrod's and visited all the usual tourist attractions from Westminster Abbey to the Wax Museum. This "trip" surely deserves "Favorite Memory" status.
You appeared in the Brady Bunch episode "Snow White and the 7 Bradys", did you ever appear in any other episode or television show?
I had a "walk-through" with one impatient line, as a nurse in "A Very Brady Christmas," but I like to think, even just for fun, that I was a "natural," type-cast" for the "title-role" in "Snow White and the Seven Bradies." The script even named the retiring old schoolteacher "Mrs. Whitfield," and I had actually taught "Carol" and each of the six Brady children when they were small first-graders. I didn't require a wig, either, to look like the part of "Snow White." (daughter's note: her hair was white by the age of 40.)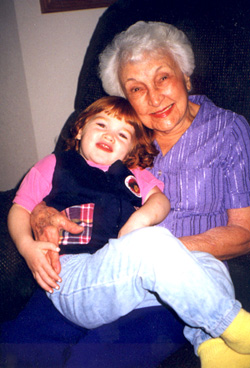 Frances with her great-granddaughter
Do you still keep in contact with the actors today?

I have a grandmotherly-type relationship with the grown-up Brady youngsters now because their mothers are the chief "keepers-in-touch." They alert me for catching television appearances and supply me with updates on their children's interests and activities. These varied activities, however, don't seem to induce frequent get-togethers. The last time I was with the "Bunch" was not a happy occasion. It was Robert Reed's memorial service in Pasadena. I did enjoy Mike and Kelly's taking me to the scene and Maureen and her Michael with little Natalie bringing me back home.

A big thrill of more recent years was seeing Barry's performance of his one-man non-stop variety show. Two of my own grown-up grandchildren shared this experience with me in a well-packed auditorium of highly enthusiastic and utterly delighted Washington college students. I often listen to Barry's recordings and Maureen's lovely album, too. And I'm "hooked on" "Touched by an Angel" because Kelly Lookinland is script supervisor and Mike's a cameraman on it. How's that for keeping-in-touch!
Your thoughts on the impact that The Brady Bunch has had on society over the last 30 years.
"The Brady Bunch" seems to have become a symbol for today's much-used term "family values." Each episode's treatment of a familiar problem or undesirable situation finds ready-made rapport in an audience of Grown-Up "Brady Bunch" fans and their currently Growing Up Brady kids peers.
Workable solutions to these mutual concerns and the manner in which "The Brady Bunch" scripts resolved them must inspire the real-life parents and their children to attempt achievement of Brady-like "family relations."
---