Leah (Ayres) Kalish
BORN MAY 28, 1957

APPEARED AS MARCIA IN
THE BRADYS (1990)

---
Written by Leah (Ayres) Kalish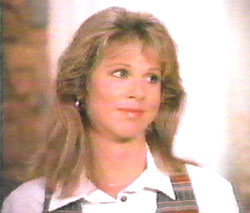 Portraying Marcia Brady on the Brady grown-up series was a fun, interesting job. I had never seen the show as a kid so it was all new to me. I was amused by all the attention the whole Brady phenomenon gets.
I have a new career now having moved on from acting to teaching and producing creativity and imagination building materials for children. I received my M.A. from Pacific Oaks College in Pasadena, CA in 1996 and have created a curriculum and a company called IMAGINAZIUM!
We will have 5 products in stores by the middle of May and I am very proud and pleased. Check us out at www.imaginazium.com. We do audio-stories for kids that are more like audio-adventures. They come with activity books that are truly creative. We also have a Yoga Kit For Kids and Feelings Friends Pillows. You'll see....
It's very fulfilling. Everything we produce comes from what I do with young kids in the classroom.
---