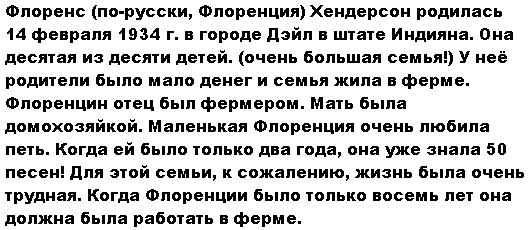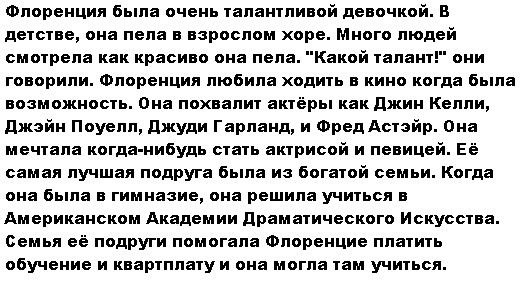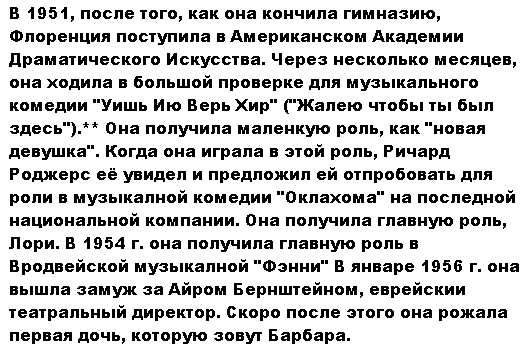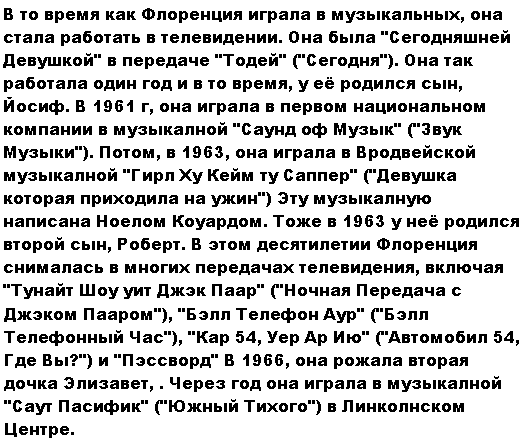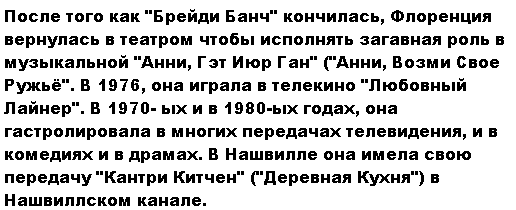 **Russian translations of the musical and television program titles are in parentheses following the Cyrillic transliterations of each title.
---
Direct English Translation
Florence (in Russian, Florenzia) Henderson was born on February 14, 1934 in Dale, Indiana. She is the tenth of ten children. (A very large family!) Her family was very poor and lived on a farm. Florence's father was a farmer. Her mother was a homemaker. Little Florence really loved to sing. When she was only two, she already knew 50 songs! Unfortunately, for this family times were very difficult. When Florence was only eight years old, she had to start working on the farm.
Florence was a very talented little girl. As a child, she sang with the adult choir. Many people saw how beautifully she sang. "What talent!" they would say. Florence loved to go to the movies when she had the chance. She admired actors such as Gene Kelly, Jane Powell, Judy Garland, and Fred Astaire. She dreamed about someday becoming an actress and singer. Her best friend in high school was from a rather wealthy family. Florence wanted to attend the American Academy of Dramatic Arts after she finished high school. Her friend's family helped her pay the tuition and room and board so that she could attend the school.
In 1951, after she finished high school, Florence enrolled in the American Academy of Dramatic Arts. Within a few months, she found herself auditioning for the musical comedy "Wish You Were Here". She landed a small role in the chorus as the "new girl". While she was playing this role, Richard Rodgers saw her and suggested that she try out for the national company of "Oklahoma!". She got the lead role of Laurie. In 1954, she won the lead in the Broadway musical "Fanny". In January of 1956, she married theatrical director Ira Bernstein. Later that year, she bore a daughter, whom she named Barbara.
While she was appearing in musical theatre, she began working in television. She was the "Today Girl" on the "Today Show". That lasted about a year and within that year, her first son, Joseph, was born. In 1961, she appeared in the national company of "The Sound of Music". Later, in 1963, she was the lead in the Broadway musical "The Girl Who Came to Supper". This musical was written by Noel Coward. Also in 1963, her second son, Robert, was born. In that decade, Florence appeared in various television programs such as "The Tonight Show with Jack Paar," "Bell Telephone Hour," "Car 54, Where are You?" and "Password". In 1966, she gave birth to her second daughter, Elizabeth. A year later, she played the lead in the musical "South Pacific" at the Lincoln Center.
1969 was a very important year in Florence's life. In that year, she landed the lead role in the situation comedy "The Brady Bunch". She played the role of the mother of six children. Robert Reed played the role of the children's father. This sweet little show became very popular with children. Several channels still show reruns.
After "The Brady Bunch" finished its run, Florence returned to the theatre to play the title role in "Annie, Get Your Gun". In 1976, she appeared in the TV movie "The Love Boat". In the 1970's and 1980's, she guest-starred on many comedic and dramatic television programs. In the 1980's she had her own show in Nashville called "Country Kitchen".
Today, she is involved in many different things. She is a hypnotherapist, like her second husband (She divorced her first husband sometime in the 1980's). She still sings and appears on television as both an actress and a celebrity product endorser. She already has three grandchildren, but she looks much younger than her years. It's hard to believe that she is already a grandmother! She is still very trim and attractive. Many people love her because she is kind, energetic, and cheerful.
Written by Kristin Johanson
---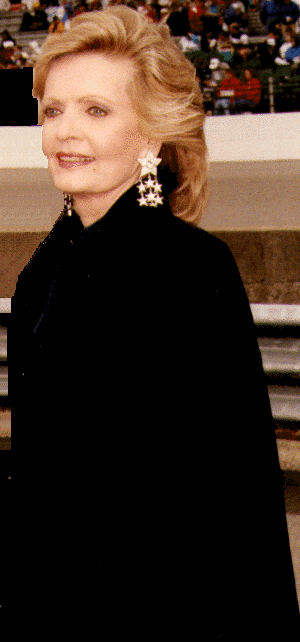 Picture taken at Indianapolis 500
Supplied by Willie307


| | |
| --- | --- |
| | BACK |
| | HOME |