ANN B. DAVIS
(Alice Nelson Franklin)

Born May 5, 1926
Died: June 1, 2014


Ann B. Davis was the daughter of Cassius Miles Davis and Margurite (Stott) Davis. Ann was born on May 5, 1926, in Schenectady, New York. She has an identical twin sister, Harriet Davis, and an older brother Evans Hamilton Davis. When she was three, her family moved from Schenectady to Erie, Pennsylvania.
In 1944 Ann graduated from Strong Vincent High School in Erie, and in 1948 she graduated from the University of Michigan. While at the University of Michigan she changed her major from pre-med to drama (allegedly after seeing her older brother performing in a production of Oklahoma).
She reached Hollywood in 1954 and acted in local productions and revues, where she was spotted by casting directors and won the role of Charmaine "Schultzy" Schultz. For her role as Schultzy on The Bob Cummings Show/Love That Bob, she was a four-time nominee and two-time Emmy Award winner for Outstanding Supporting Actress in a Comedy Series. On 09FEB1960, Ann B. Davis received a star on the Hollywood Walk of Fame.
Davis went on to have regular berths on the summer variety series The Keefe Braselle Show (CBS, 1963), and The John Forsythe Show (NBC, 1965-66). On the latter, she played Miss Wilson, the never-been-wed, never-been-kissed physical education teacher.
During the 1960s and 1970s, she was known for her appearances in television commercials for the Ford Motor Company, particularly for the mid-sized Ford Fairlane models. She also was featured in commercials for Minute Rice until the mid-1980s.
In 1969, Ann B. Davis was tapped to play Alice Nelson, former housekeeper to architect Mike Brady (Robert Reed) and then fulltime cook, housecleaner, confidante and comic relief to his extended family on The Brady Bunch. (Actress Monty Margetts was originally slated to play the role of Alice, but when Florence Henderson replaced comic actress Joyce Bulifant as Carol Brady, producer Sherwood Schwartz sought Davis to add some zing to the adult relationships on the series.) As Alice, Davis made the most of her supporting role; both sage and zany, she could be counted on to deliver irreverent comments to the Brady's low-wattage dilemmas (which were invariably followed by a round of "Oh, Alice!") and even contribute to the kids' basketball games. But on occasion, she provided some honest and even heartfelt wisdom to her charges, most notably the eternally conflicted Jan. Alice's most consistent subplot involved her relationship with butcher Sam Franklin, played by another comedy veteran, Allan Melvin. Forever going on bowling dates or competing in Charleston dance-offs, the unlikely pair were finally married prior to the 1981 reunion series The Brady Brides. While starring on The Brady Bunch, Davis was a frequent visitor to Southeast Asia, where she entertained the troops as part of the USO during the Vietnam War.
She semi-retired from show business in 1976 when she sold her home in Los Angeles and joined an Episcopal community led by Bishop William C. Frey. In 1994, she published Alice's Brady Bunch Cookbook, with Brady Bunch creator Sherwood Schwartz. Ann B. Davis never married, and was never romantically linked publicly with anyone. She currently (2012) lives in Texas.
(Biography contributed by Don Winans)
---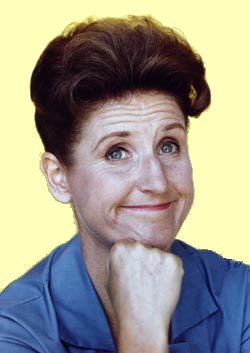 | | |
| --- | --- |
| | OTHER CREDITS |
| | TV LISTINGS |
| | CAST AREA |
| | HOME |