TO PURCHASE YOUR COPY
RELEASE DATE DEC, 2004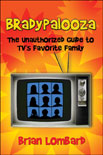 Interview with Brian Lombard


Can you tell our visitors, what your book covers in relation to The Brady Bunch? (i.e. trivia, photographs, biographies of the cast, episode analysis, etc.)

Bradypalooza: The Unauthorized Guide to TV's Favorite Family, is an episode-by-episode critique of all things Brady. It's not a trivia book. It's not a tell-all book. It breaks down each episode in terms of production mistakes/changed information, guest star bios, and syndication cuts. It reviews not just the original series, but the movies, the cartoon, the Christmas special, and yes, the variety show. It will be available in December or January.

Give some examples of what your episode anaylysis will cover (i.e. inconsistencies, editing goofs, etc.)?

Information about the characters has a tendency to change, if you pay close enough attention. For example, in "The Great Earring Caper," Peter takes the bathroom sink apart, then puts it back together. Three episodes later, in "How to Succeed in Business," Mr. Martinelli repeatedly tells us that Peter is not "mechanically inclined." So how did he take the sink apart? In "Click," a third season episode, Carol knows absolutely nothing about football, saying it's a game for brutes. Yet she's forgotten that Peter played it in "The Drummer Boy," and that she dated Tank Williams, pro football player, when they were in high school together. And which high school was that? Carol tells us in "A Fistful of Reasons" that she grew up in Massachusetts, but by "Quarterback Sneak," she's an alumnus of West Dale High!

The book also outlines the scenes that were cut out when the show went into syndication, by comparing the TBS versions of the shows with the Nick-At-Nite editions.

Anyone reading this book knows everything there is about Barry Williams, Maureen McCormick, etc. But how about the guest stars? For example, which Brady neighbor appeared in the movie Sex Kittens Go To College? Who sailed on Titanic? And what made Chris Beaumont so special that they cast him as 4 different Brady friends?

Have you had the pleasure of meeting or speaking with any of the original cast members, including Sherwood Schwartz, either in general or about your book? And if so, what were their opinions of the book project?

Sherwood has been very supportive of this project. He said that this was the book that he always wanted to write about the Bunch, but never had the time for. He was extraordinarily generous, and gave me a great blurb for the book cover. The only actor I actually spoke to was Mike Scott Robertson, aka Alan Anthony from "Brace Yourself." He was also supportive and gave me a few inside stories. I did attempt to contact some of the regular cast members, but was unsuccessful.

What gave you the inspiration to write a book on The Brady Bunch?

There's an old writer's axiom. Write about what you know. And since I spent most of my youth watching television, it seemed a natural. : ) Seriously, I love the show, and I've seen other nitpicky books like this, but noticed that despite the number of Brady books already out there (some of which I felt disappointment with) no one had ever done one on the Bradys. Figured I'd give it a shot.

Where can the book be purchased?

Initially, it will be available via the publisher, at www.publishamerica.com, as well as www.amazon.com. We are working to get it into the bookstores now. I'll update you on these efforts.

Finally, is there anything you wish to add related to this project?

Nothing Brady related, but I would add to anyone who ever wanted to write a book, go for it! I had the idea for this back in 1997, and it took seven years and two publishers to make it a reality. Now that I've got an in, expect similar tomes in the future. I've already begun a "Dukes of Hazzard" edition," and am toying with giving Gilligan the same treatment.
---

TO PURCHASE YOUR COPY