TO PURCHASE YOUR COPY
RELEASE DATE 12/08/00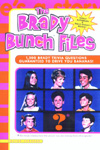 Interview with Lauren Johnson


Can you tell our visitors, what your book covers in relation to The Brady Bunch? (i.e. trivia, photographs, biographies of the cast, history of the show, reunions, etc.)

In addition to 1,500 trivia Q & A's based solely on the original 117 episodes, my book also includes approximately thirty-five photographs and an episode guide, as well as my take on America's obsession with the Brady Bunch. None of the questions reflect any of the subsequent permutations - i.e. The Brady Kids, The Brady Bunch Variety Hour, The Brady Girls Get Married, (a.k.a. The Brady Brides), A Very Brady Christmas, The Bradys, The Brady Bunch Movie or A Very Brady Sequel.

I understand that there are 1000+ trivia questions in varying degrees of difficulty in your book related to The Brady Bunch. How did you go about accumulating and organizing your questions?

Most of the questions I wrote off the top of my head. For some reason, this stuff just sticks to my brain. But the real specific questions, such as the quotes (i.e. To whom did so-and-so say "such-and-such?"), I pulled directly from my video library. Dividing them up into difficulty levels was the tricky part because difficulty, when it comes to the Brady Bunch, is a pretty subjective thing. So I bounced a lot of them off my sister and two brothers, each of them representing one of the three difficulty levels. And some of the questions are basically the same, except the difficulty level determines how much information is supplied. For example, a level one question may read: Whose voice changed shortly before The Brady Six was supposed to record their first hit song? A level two question might read: Who said "Of all the crummy times for my voice to change."? And a level three question may read: What was Peter referring to when he said "Of all the crummy times for my voice to change."? You may remember it was Peter whose voice changed during one particular episode, but you might not remember why it was such a crummy time for it to change.

In my first draft, I had actually accumulated 4,000 questions, which was way too many for one book. When I first met Sherwood Schwartz (creator of the Brady Bunch), I gave him a copy of the first draft and he almost fainted! Not only did the manuscript weigh almost ten pounds, he couldn't believe there was even that much to write about! My publisher (Renaissance Media) thought 1,500 was a little less overwhelming and I had to agree with them. Besides, it leaves the door open for subsequent volumes.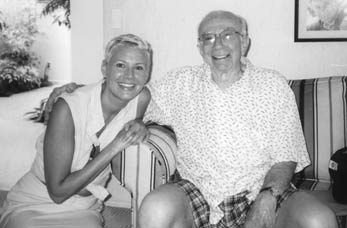 Have you had the pleasure of meeting or speaking with any of the original cast members, either in general or about your book?
Actually, the only Brady I've met is Cindy. it was very briefly, several years ago, at a seminar in Chicago where she spoke on migraine headaches (she's a migraine sufferer). It was pretty funny, she took a few minutes at the beginning of the seminar to ask Brady trivia questions and there I was sitting up front like the teacher's pet, thinking I was the only Brady expert in the room. but you wouldn't have believed how many other hands were flying behind me! That was pretty humbling!
I do hope to meet some of the others someday, however, having met and become buddies with Sherwood Schwartz since moving to LA, I have to say, even if I don't get the chance to meet any of the other Bradys, I can't complain. Sherwood's shared so many wonderful stories about everyone, I feel like I already know them. Sherwood's really the sweetest man in the world. He's been so generous with his time and support and he's exactly the man you'd expect him to be. He really believes in people and knows in his heart what people really want. And that's what he give us.
Now you want to hear something funny? It's really more flattering than funny, but one night Sherwood calls me up and goes, "Wasn't there an episode with a bird?" And I go, "Yeah. Mike bought Bobby a bird to cheer him up after he fell down and sprained his ankle climbing up to Peter's tree house club. The episode was called 'What Goes Up.'" Sherwood couldn't believe I knew it off the top of my head. I couldn't believe Sherwood Schwartz was asking me! How flattering is that?!
What gave you the inspiration to write a book on The Brady Bunch?
It's funny. I had no intention of writing a book when I started this. I'd just started accumulating questions for fun. Then it turned into a trivia game. I even created a game board, like Trivial Pursuit. The object of the game was to drive your little station wagon around the wheel, picking up each of the Bradys and returning home to the center of the board. It was a great idea, except from a financial standpoint, it wouldn't have been practical to produce (too many people involved, too many permissions, too many percentages). So it was suggested to me by someone at Paramount to write the book. I didn't really have much interest in doing that at the time, but I kept writing the questions anyway. By the time I'd hit 4,000, I realized that I already had a book! So I wrote an intro and the episode guide and tried to sell it. That was about five years ago. I'd had two agents working on it but no one was interested. They all said the craze was over. Yeah, right. I knew better. I remembered Sherwood Schwartz telling me the story of how no one was interested in his pilot for the Brady Bunch and it sat on his shelf for three years before the networks came knocking on his door. Inspired by that, I shelved it for a while, knowing that one day someone would buy it. Then, after moving to LA, I met my very good friend, Marty Krofft (H.R. Pufnstuf, Sigmund and the Sea Monster, Land of the Lost) who had produced the Brady Bunch Variety Hour back in the seventies. He's really into all the old TV shows and he was the one who encouraged me to get the book back out there.
Have you previously published any books related to television or in general?
This is my first book. But there's a second volume just waiting to be published.
I also wrote a second sequel of The Brady Bunch Movie just for fun. Of course I knew when I wrote it that it'd be a tough sell, but I had this great story inside me that I just had to write it anyway. I got the script to Paramount, but just as I was told before I even wrote it, they're just not interested in doing a third movie after A Very Brady Sequel bombed at the box office. It's too bad. I'd love to see a third movie. And I'm sure a lot of other people would like to see one too. Besides, Paramount really needs a third to round out the trilogy. Oh well. it was a lot of fun to write. It's called: The Brady Bunch III: Jan's Revenge. It's all about how Jan gets revenge on Marcia after finding $100,000 in an empty lot (she trips over a duffel bag full of drug money while having a potato sack race with the other kids). When no one comes forward to claim the money, the cops let her keep it and she gets a complete overhaul from head to toe. This is when we discover that underneath all the turtlenecks and plaid jumpers, the New Jan Brady's got the body of a Victoria's Secret model! And now that she's a hottie, she gets to enjoy all the privileges of being beautiful, while Marcia gets to take the back seat for a change. But all the while Jan's living the high life, the drug dealers, who lost their money, are looking for her, except now they don't recognize her because they're looking for the "dweeb with glasses". that is, until Jan decides she misses her old, lackluster life and returns to being the Old Jan Brady. Of course now the drug dealers close in all hell breaks loose in the Brady household!
Do you have a webpage that people can visit to learn more about this project or other projects you are working on?
Nope. But provided this book does well, as I alluded to earlier, there could be another volume. And, I was thinking. if anyone wants to read Jan's Revenge, I'd love to post it on this website. It'd be great to get your feedback, and, if you like it, you could help me convince Paramount to take a chance on a third. Wouldn't that be great?!
(Note from Brady World: If you are interested in having Lauren post her script at Brady World, let us know and if there is enough of a response, we will make it a future feature.)
Finally, is there anything you wish to add related to this project?
Just that it's perfect for parties, car trips, coffee tables and bathrooms. And, of course, it makes a great gift. And because there's a difficulty level for everyone, anyone who's ever watched the Brady Bunch will love it!
I also want to say, thanks so much for all your interest! I'd love to get your feedback so if you want to let me know what you think, you can e-mail me at Lulubell@attglobal.net with your comments.
---

TO PURCHASE YOUR COPY