Life is Not a Stage: From Broadway Baby to a Lovely Lady and Beyond
By Florence Henderson
Review by Wendy Winans (Brady World)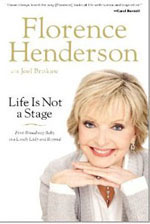 Though The Brady Bunch has been a proud part of Florence Henderson's life for more than forty years, it has had but a small part in shaping who she is, both personally and professionally. In reading Life is Not a Stage, I discovered so many facts about Florence's life that I did not know before. In her book, she openly shares her lowest moments and fears, as well has the highlights and turning points of her journey in finally achieving personal happiness. According to the book, Florence wrote her memoir not only to tell her story, but also with the hope that her story will "remind us that no matter how serious or dire our situations may be, each of us have unbounded potential to transcend the most formidable of obstacles."
For those of us who are Brady fans, Florence shares her thoughts on all her fellow cast members and even reveals when she realized the reason why Robert Reed was uncomfortable when doing romantic scenes. She also tells how Ann B. Davis helped her in learning to relax (read the book to discover her secret).
Florence has a light style of writing that the reader will enjoy. In telling of her journey, Florence shares her memories of legends from Broadway theater, radio, film, and television such as Rodgers & Hammerstein, Ezio Pinza, George Burns, Dave Garroway, and Milton Berle, just to name a few, and some not-quite-so-legendary, but well-known, such as Tiny Tim and Maria Von Trapp.
I highly recommend this book to Brady and non-Brady fans alike, but with the caveat that, in my opinion, it is not for young children. Florence is very open and honest about her romantic relationships over the course of her life. She says of herself, "Florence Henderson has a racy sensibility, in direct contrast to the more staid onscreen image of Carol Brady."
May we all reach our goals and find happiness and be reminded by Florence's courage that no obstacle is too big.