Brady Bunch Season TWO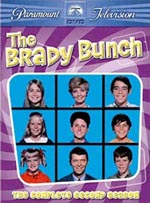 The basics of the boxed set: This four-disc collection contains the twenty-four episodes from the second season of The Brady Bunch, which aired in the 1970-1971 television season. The episodes are uncut in the order they first appeared on television.
The coolest part of the package continues to be the outer box itself. The still picture, which is updated from Season 1, as seen on the internet does not do it justice. The 3x3 squares of the cast is actually a hologram type picture that when you move the box from side to side the cast moves and looks about the squares as they do in the opening credits. Then there are two inner disc jackets, one with a purple cover, the other green and the opposite color when you open them up (also within each case are famous one-liners from the show and additional pictures from the shows). Each case contains 5 color-pictures; most are scenes from second season episodes. Each jacket contains two discs, each disc having two headshots: disc 1 - Mike & Carol; disc 2 - Greg & Marcia, disc 3 - Peter & Jan and disc 4 - Bobby & Cindy. The back of the disc cases contain episode descriptions and airdates for each episode. (See our episode guide for this information as well, though our episode guide lists the episodes in order of production, not airdate.)
Unfortunately, this DVD contains no extras (i.e. commentaries over certain episodes like we found on Season 1). Despite the lack of extras, Brady World continues to recommend this collection for its uncut episodes, and looks forward to Seasons 3-5. We hope that the producers will in the future find extras to put on the upcoming seasons. Anyone who enjoys family shows and wants to remember a piece of their own childhood should buy this set and all future releases.
---

Disc 1
The Dropout
The Babysitters
The Slumber Caper
The Un-Underground Movie
Going, Going Steady
Call Me Irresponsible

Disc 2
The Treasure of Sierra Avenue
A Fistful of Reasons
The Not-So Ugly Duckling
The Tattle-tale
What Goes Up
confessions, Confessions

Disc 3
The Impractical Joker
Where There's Smoke
Will the Real Jan Brady Please Stand Up?
The Drummer Boy
Coming Out Party
Our Son, the Man

Disc 4
The Liberation of Marcia Brady
Lights Out
The Winner
Double Parked
Alice's September Song
Tell it Like It IS